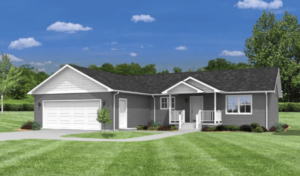 The Greenwood plan is available to tour at Griffith Homebuilders' Urbana location.Modular Homes model tours. One of the best ways to determine what you like, and don't like, is to take a tour of a model home. Our customers tell us that this is a great way to make a paper floor plan come alive. It doesn't have to be the plan you like. There is great value in stepping into a room that is comparable to your customized plan and seeing if it is the right size for you.
Griffith Homebuilders has two Iowa locations for you to look at model homes: Kellogg (on I-80 near Newton) and Urbana (on I-380 between Cedar Rapids and Waterloo)
Click here for exact addresses and location hours.